Understanding Tribal Sovereignty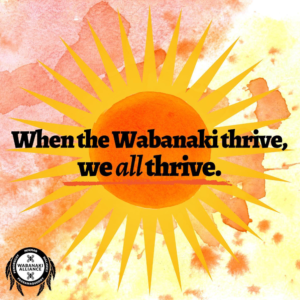 For more than 40 years, the state of Maine has used legislation passed in 1980 to deny the Wabanaki Nations' inherent tribal sovereignty, excluding the Houlton Band of Maliseet Indians, Mi'kmaq Nation, Passamaquoddy Tribe, and Penobscot Nation from many rights and protections guaranteed by Federal Indian Law. This has resulted in decades of social and economic barriers for the Wabanaki people and surrounding communities.
Use the resources on this page to learn more about the issue and its history, and then visit our Take Action page to find out how you can support Wabanaki sovereignty.
Understanding Tribal Sovereignty
March 2023
Produced by Adrian Madanes and the Maine Youth for Climate Justice Communications Team in collaboration with the Wabanaki Alliance. 
Faith-Based Advocacy: Tribal Sovereignty

February 2, 2023
Hosted by the Maine Council of Churches, with Osihkiyol Crofton-Macdonald, Houlton Band of Maliseet Indians Ambassador and Shirley Hager, Friends Committee on Maine Public Policy and the Wabanaki Alliance Tribal Coalition

2022 Common Ground Fair

September 23, 2022
Hosted by the Maine Organic Farmers and Gardeners, with Maulian Dana, Penobscot Nation Ambassador 
Tribal Sovereignty and Wabanaki Nationhood – Past, Present, and Future

October 26, 2022
Hosted by the Portland Public Library and Southern Maine Conservation Collaborative, with Osihkiyol Crofton-Macdonald, Houlton Band of Maliseet Indians Ambassador 
Newsroom Live: Tribal Sovereignty 

February 22, 2022
Hosted by the Portland Press Herald, with Maulian Dana, Penobscot Nation Ambassador