Join the Wabanaki Alliance Coalition
More than 200 businesses and organizations have joined the Wabanaki Alliance Tribal Coalition, a group that supports Wabanaki inherent sovereignty and helps advance the work of the Wabanaki Alliance, a 501(c)(4) nonprofit organization of Wabanaki nations in Maine created in June 2020. As bipartisan support for the Alliance and our work continues to expand, we welcome even more organizations to sign on and be part of this historic effort. Find more information below about our Coalition. If your business or organization is interested in joining us, click on the button below to complete our sign-on form. 
Why was the Wabanaki Alliance formed?
The Wabanaki Alliance was formed to educate the people of Maine and to advocate for recognition of the inherent sovereignty of the Wabanaki nations: the Houlton Band of Maliseet Indians, Mi'kmaq Nation, Passamaquoddy Tribe (at Motahkomikuk and Sipayik), and Penobscot Nation.
Why is Wabanaki inherent sovereignty so important?
Wabanaki nations currently do not have the same rights, powers, privileges, and immunities as other federally recognized tribes in the United States. This injustice has resulted in decades of social and economic barriers for the Wabanaki people and surrounding communities. Learn more in our Understanding Tribal Sovereignty page. 
Who supports the Wabanaki Alliance?
Bipartisan support for the Alliance and its efforts continues to grow in the Maine Legislature as well as among businesses; organizations advocating for the environment, conservation, and economic and social justice; faith-based and youth groups; unions; professional and philanthropic organizations; and thousands of individuals.
What does it mean to be a member of the Wabanaki Alliance Tribal Coalition?
Supporters' level of commitment varies, with each participant contributing how and what they can in the form of time, talent, and financial contributions. Some supporters actively participate in the Wabanaki Alliance Tribal Coalition working group, which meets regularly and includes individuals and organizational representatives who are dedicated to advancing the work of the Alliance and promoting respect and support for Wabanaki inherent sovereignty. As a Tribal Coalition member, you will be publicly identified as a supporter of the Wabanaki Alliance and invited to endorse individual actions and priority legislation as opportunities arise.
How can my business or organization join the Wabanaki Alliance Tribal Coalition?
Click on the button below to complete our sign-on form. If that is not possible for you, please contact us for assistance. Not part of a business or organization but interested in following updates from the Alliance? Join our email list and follow us on Facebook, Twitter and Instagram!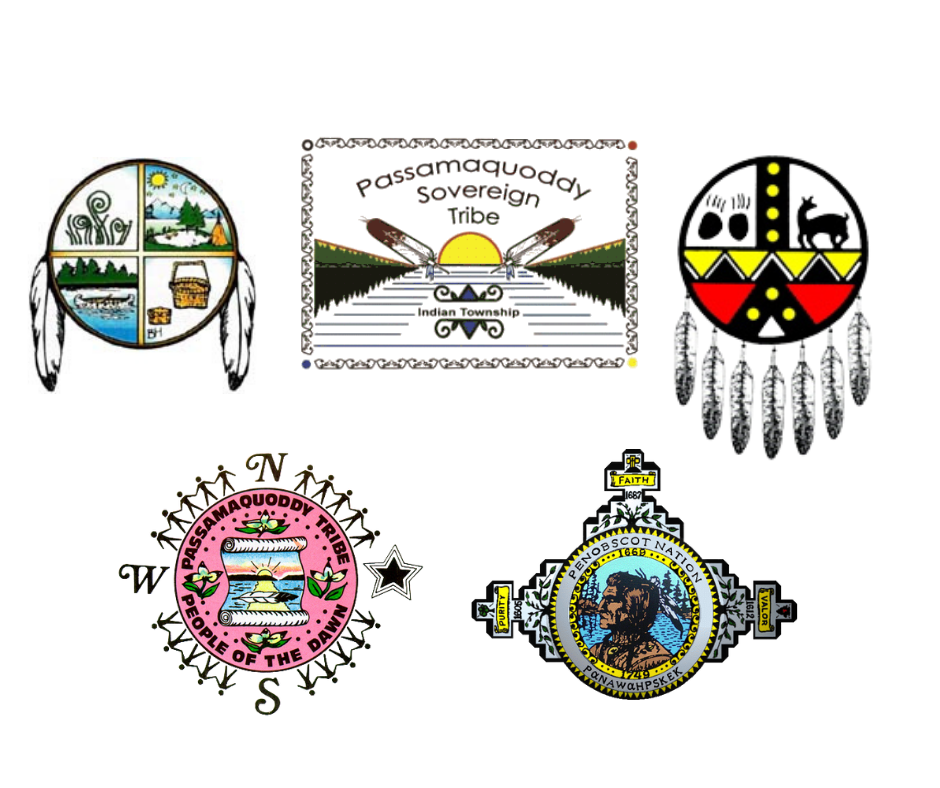 Wabanaki Alliance Coalition Members*
16 Hoops LLC
A Climate to Thrive
Acadia Action
Acupuncture by Meret
Aikido in the Schools
All Kind LLC
Alliance for Economic Democracy
American Friends Service Committee Wabanaki Program
Appalachian Mountain Club
Atlantic Black Box
Azhebowen
Bangor Area Derby
Baskahegan Company
Belfast Community Co-op
Belfast Coworking
Bicycle Coalition of Maine
Biddeford Saco Area SURJ
Blue Hill Co-op
Boxcar Books
Brick Store Museum
Center for an Ecology-Based Economy
Chaplaincy Institute of Maine (ChIME)
Citizens' Climate Lobby ME
Coastal Enterprises, Inc. (CEI)
CODATA Center of Excellence in Data for Society at the University of Arizona
Community Change Inc
Community Clinical Services
Conestco
Confluence Collective
Confluence Institute for Research, Communication, Leadership, and Education (CIRCLE)
Congregation Bet Ha'am
Congregation Beth El Social Action Committee
Conscious Revolution
Conservation Law Foundation
Dastardly Dick's Dog Boarding and Care
Dastardly Dick's Wicked Good Coffee
Decolonizing UMaine
Defend Our Health
Dirigo Collective
Down to Earth Storytelling
Downeast Restorative Justice
Downeast Salmon Federation
Drummond Woodsum
EqualityMaine
Equity Buckfield
Equity Consulting and Education Firm
Fable Farmstead
First Light
First Parish in Portland UU
First Universalist Church of Norway, UU
First Universalist Church of Yarmouth Maine
Food AND Medicine
Friends Committee on Maine Public Policy
Friends of Casco Bay
Friends of the Harriet L Hartley Conservation Area
Full Plates Full Potential
Gateway Community Services Maine
Ginger Hill Design + Build
Greater Bangor Area Branch NAACP
GrowSmart Maine
Gulf of Maine Books
Harpswell Indivisible
Healthy Acadia
Holocaust and Human Rights Center of Maine
Indigo Arts Alliance
Indivisible Bangor
Indivisible MDI
Jennifer Melville Conservation Consultant
Jenny Ingwersen Counseling
Johnson Legal, LLC
Juneteenth Downeast
JustME for JustUS
Lake & Watershed Associates
Laudholm Trust
League of Women Voters of Maine
Learn Around The World
Left Bank Books
Loon Echo Land Trust
Lumbery
Mabel Wadsworth Center
Mahoosuc Guide Service
Maine Audubon
Maine Center for Economic Policy
Maine Children's Alliance
Maine Citizens for Clean Elections
Maine Climate Action Now
Maine Coast Heritage Trust
Maine Conservation Voters
Maine Council of Churches
Maine Education Association
Maine Environmental Education Association
Maine Equal Justice
Maine Family Planning
Maine Farmland Trust
Maine GearShare
Maine Green Independent Party
Maine Immigrants' Rights Coalition
Maine Initiatives
Maine Labor Climate Council
Maine Local Market
Maine Organic Farmers and Gardeners Association
Maine Philanthropy Center
Maine Public Health Association
Maine Shellfish Learning Network
Maine Unitarian Universalist State Advocacy Network (MUUSAN)
Maine Women's Lobby
Maine Youth Action
Maine Youth for Climate Justice
Maine Youth Power
Maine: Rise Up! Be Heard!
Mainers for Humane Immigration
MDI Racial Equity Working Group
Midcoast Conservancy
Midcoast Indigenous Awareness Group MIAG
MidCoast Solar
Mind Your Mouth, PA, LLC
National Association of Social Workers – Maine Chapter
National Parks Conservation Association
Natural Resources Council of Maine
New England Annual Conference Committee on Native American Ministries (United Methodist)
New England Ocean Cluster
New England United Methodist Committee on Native American Ministries
No Penobscot County Jail Expansion
OPRentals
Our Power
Out in the Open
Patagonia Freeport
paul's place
Pax Christi Maine
Peace and Social Justice Forum/Waldo County
Penobscot Theatre Company
Physicians for Social Responsibility/Maine Chapter
Pink Eraser Press
Place Justice
Planeteers of Southern Maine
Portland Dharma House
Portland Trails
Portland by the Foot
Preble Street
Prevention. Action. Change.
Quimby Family Foundation
Racial Justice Council, Episcopal Diocese of Maine
RAGAR (Rural Action Group Against Racism)
Redbird Media Group, LLC
Restorative Justice Institute of Maine
Restorative Justice Project Maine (RJP)
ReVision Energy
Rising Tide Co-op
Sandra Isaac Images LLC
Schoodic Institute at Acadia National Park
Sierra Club Maine
Slingshot
Social Work Department, University of Maine at Presque Isle
Southern Maine Conservation Collaborative
Southern Maine for Racial Justice (SMRJ)
SPACE Gallery
Speckled Ax Wood Roasted Coffee
SPEEDWELL Contemporary
Spruce Gum Books
St. Brendan the Navigator Episcopal Church
St. David's Budget Box
St. David's Episcopal Church – Kennebunk
Suit Up Maine
Sunrise Ecologic, LLC
SURE (Showing Up for Racial Equity) at UUSB (Unitarian Universalist Society of Bangor
The Bingham Program
The Cannery at South Penobscot
the good table
The Green Store
The Maine MultiCultural Center
The Maine Network of Community Food Councils
The Mix
The Planeteers of Southern Maine
The Potter Building Company
The Spiral Goddess Collective, a Center for Mind/Body Movement
The Third Place Inc.
The Wilderness Society
The Wilson Center for Spiritual Exploration and Multifaith Dialogue
Third Act Maine
Three Rivers Land Trust
Top of Turtle Island Gifts
Trampoline Design
Tri Town Equity and Inclusion Coalition
Unified Asian Communities
Union of Concerned Scientists
University of Maine, School of Social Work
University of Southern Maine, Maine-Greenland Collaborations
Unitarian Universalist Church of Ellsworth
Veterans For Peace, Maine Chapter
VOA Northern New England
Washington County Democratic Committee
Western Foothills Land Trust
Windfire Ministries Heartful Living & Dying
WindHorse Arts
Woods Creative
Working for Justice Steering Group, Unitarian Universalist Church of Brunswick
Yarmouth Community Alliance for Racial Equity (YCARE)
Yellow Barn Literary
YWCA Mount Desert Island
Youth Led Justice (YLJ)